On May 10, 2022, the most successful and largest professional audio-visual equipment and information system integration technology exhibition held in Europe so far, ISE 2022, officially kicked off at the Barcelona Convention and Exhibition Center in Spain. This exhibition attracted 952 exhibitors and more than 50,000 exhibition audience from all over the world. Huachuang Vision made its debut at the ISE exhibition with various new products, bringing a new video conference experience to our customers and partners.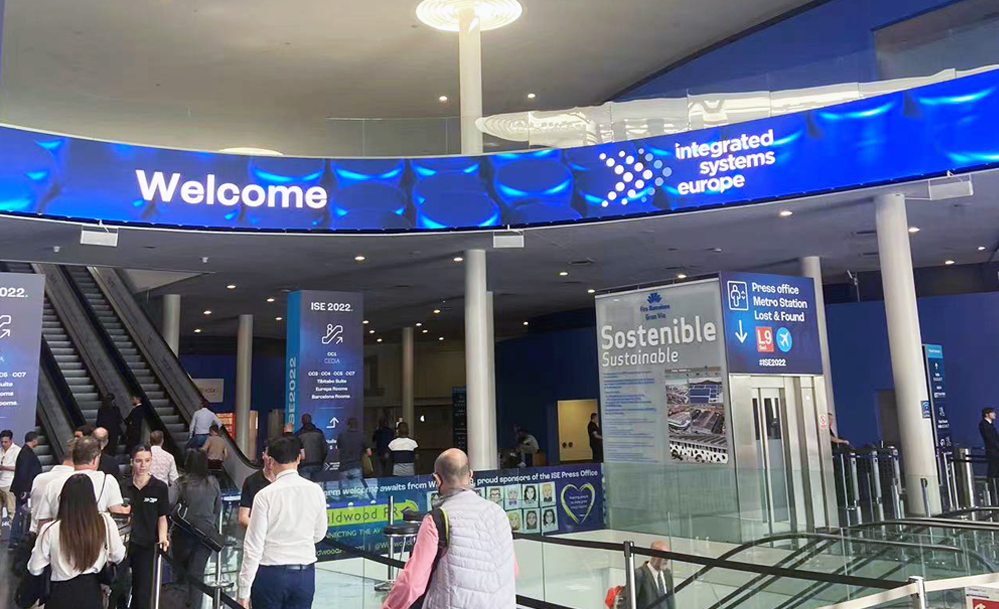 1.Web Camera | Small, Exquisite, Wide FOV
The Webcams series products UC320/325 and UC380H applied to the personal spaces, the compact body has a 120°/86° ultra-wide field of view, the ultra-high-definition 4K/1080p resolution can capture every detail, and the extraordinary video conference quality made the audience applaud.
2.All-in-one USB Camera | Delicate, Beautiful, Powerful
In this exhibition we showed our new products of All-in-one series C5A0, C4B0, C4A0 specially designed for small/huddle rooms. This series of products integrate camera, microphone and speaker, support 4K/1080p ultra-high-definition video calls, have a large field of view of 120°/110°/100°. They're exquisite, portable, and easy to operate, greatly refreshed the audience's understanding of video conferencing equipment.
3.PTZ Camera | Maximize Conference Space

Conference Camera series product C5B0 is a full-HD PTZ camera suitable for large/medium-sized conference rooms. This product adopts a 10x optical zoom lens and can achieve ±90° horizontal rotation through the PTZ to maximize the coverage of the conference space.
4.Omnidirectional Microphone | Immersive Conference Experience
At the exhibition, we also presented the Mic & Speaker series product MCA400, an omnidirectional microphone with both microphone and speaker, which can 360° pick up sound, supports cascade, has array microphone algorithm and dynamic noise reduction function. It's suitable for various types of conference rooms and allows customers to achieve a completely natural conversation experience.
As Huachuang Vision, which debuted at the European exhibition for the first time, the 4-day ISE exhibition is just a starting point. In the future, we will carry out comprehensive brand activities to open up market channels around the world. Adhering to the ingenuity and the spirit of innovation and integration, we will make Huachuang products distribute all over the world, make communication and collaboration beyond distance!